It is colder here now, dark so much earlier. But no snow to speak of and I have a hyacinth bulb blooming at our little gallery: Grand isle Art Works! I hate to think what THAT means in the whole scheme of our weather!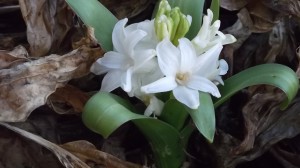 Jim is in the barn – turning Christmas gifts!  Very soon we will be rearranging the animals – we are hoping for babies this spring.  Clyde will be smiling soon!
Happy Holidays to everyone!
Ellen and Jim