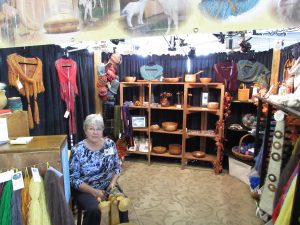 Fiber
We raise Angora goats. These goats are sheared twice a year for their fiber called mohair. Each goat produces about 12 pounds of fiber per year. This exotic fleece is mixed with sheep's wool to ensure the elasticity of the yarn. Often we use the wool from merino sheep to blend with the mohair due to its softness. Our blended fibers are then mill spun into three yarn types: 2 ply sport, 2 ply boucle, and 2 ply brushed. This mill spun fiber is then dyed or hand painted before being gathered into skeins. The fiber is also carded into rovings for hand spinning.
Processing fiber
A local shearer who uses an electric shear shears the goats. Shearing is quite quick, taking about 10+ minutes per goat. The resulting fiber is then skirted and bagged before being sent to the mill for washing, carding and/or spinning.
My hand spun fiber starts with the rovings from the mill. These rovings are often hand painted or dyed prior to spinning. I use both natural and acid based dyes for my colors. Both involve the use of hot water and time. I use a Majacraft Rose spinning wheel to produce my hand spun yarns. Most yarns are two-ply in a sport or worsted weight. The yarn is measured and skeined using an antique yarn winder. My husband also spins using a drop spindle.
Designs
The yarn that we produce is considered an exotic fiber. It has a great loft to it. For that reason, I have kept my knitting of it to very simple designs. Triangular shawls using larger needles and simple stitch additions allow the yarn to come through the knitting. I also am creating hats that I find quite elegant – yet very simple using combinations of hand and mill spun yarns. All of my knitted products are created from our own fiber with only slight embellishments from other sources.
Molds
I do not use a mold process nor do I use a pattern for my finished products. Most felted items are knit first, then washed in hot water to get the hoped for result. Each piece will vary depending on the knitting and the fiber used. On occasion, I use our fiber for weaving scarves and shawls.
Products
Yarn
Hats
Shawls
Scarves
Knitted flowers and hair pieces
Blankets
Finished products
Lustrous mohair-blend yarn, mill and hand spun and hand dyed, with knit and felted items available
Lustrous mohair-blend yarn, mill and handspun available for the fiber artist, as well as finished knit and felted items.