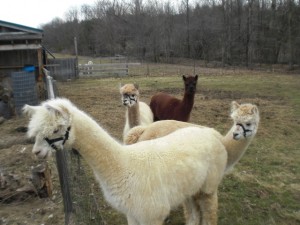 Can you believe it? August already and the end of August at that!
Yellow Dog Farm has been out and about this summer and has more plans for the fall. We have many of our products at our gallery: Grand Isle Art Works on rte 2 in Grand Isle. And we are planning on a few shows, too. Please visit us at:
September 17-18, Finger Lakes Fiber Arts Festival in Hemlock, NY
October 1-2, Vermont Sheep and Wool Festival in Tunbridge, VT
October 7 – 9, Stowe Foliage Arts Festival, Stowe, VT
November 18-20, Craft Vermont, Fine Art and Craft Show, Burlington, VT
We look forward to seeing you!
Ellen, Jim, Zeke, and Elvis!
PS – These are our newest critters! Telemark, Dorito, M&M, and Dazzle