Just when we finally started getting the hang of goats, wood and fiber.  We started thinking about how nice it would be to have a gallery for Vermont artisans here in the Islands.
On July 10, 2010 we opened the doors for the Grand Isle Art Works!  You can find our wood and fiber products there, plus the art work of over 70+ others!  A dream come true!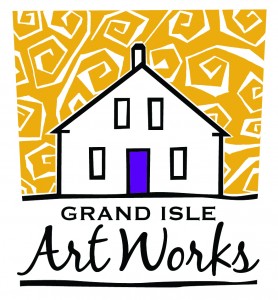 Grand Isle Art Works: A Vermont Artisans' Gallery is a new artisan gallery in Grand Isle, Vermont. Located on Route 2 just north of the village in Grand Isle.  The property is a quirky old farmhouse built in 1797, with lots of character and interesting spaces for displaying art and fine crafts. The five acre lot has great frontage on the highway, and lots of room for us to grow.
Our goal is to provide a gallery space filled with high quality, hand-crafted work from Vermont artists and artisans. All work will be juried according to aesthetics, technical proficiency, originality, and marketability. The gallery will be a retail sales venue, instructional site, as well as a common advertising tool for each artist.
Membership in this gallery requires juried admission, an annual exhibitor fee, and a commission cost. Members receive retail space appropriate for their art or craft.
We are looking for artists across a range of mediums as well as those folks who may like to support this local endeavor as a friend and/or corporate sponsor. Please do drop us a note if you would like more information at: info@grandisleartworks.com